MARRAKECH – Pearl of the south
The royal city of Marrakech is situated on palms, orange and olive groves at the foot of the High Atlas Mountains. The architectural masterpieces, such as the tombs of the Saadian, or the unique Koutoubia Mosque and the located in enchanting gardens, palaces show the magnificent splendor of the Orient. Marrakech, the city of the Berber nomads and true, as most beautiful in Morocco. In the center of the old town of Marrakech is the Djemaa el Fna. Even here at the beginning of this century, the heads of those executed were put on display. Today is waiting for the place of the Hanged with other pleasures. Early in the morning, it serves as a market. The jugglers and acrobats, it offers day and evening, he is an arena for huge open-air restaurant.
Magic of 1001 nights
From the market leads the way to Medrassa Ben Youssef, a Koranic school in the 14th century and the Palais de la Bahia, the Royal Palace with its magnificent harem. Go to the Saadian tombs, hidden behind high walls of a dead city. The Royal Palace is a world full of pomp and circumstance, a place that is normally closed to the common people. Marrakech is a word from the Berber language and probably means "the land of God." Another explanation of the Berber language tifinasch-is "pulling land" (mar-our-Kouch, parcours de terre). Morocco as a term for the whole country went out of the city name Marrakech.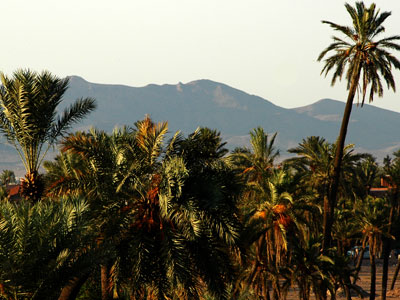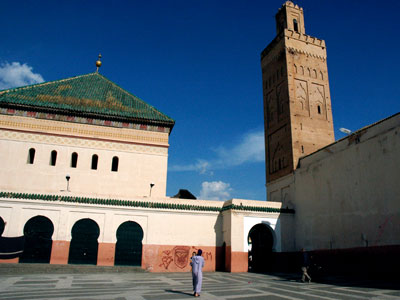 Traditional trail
Today, Marrakech is a provincial capital and a major transportation hub, which is connected by a railway with Casablanca and the north of Morocco. Since 2008, the railway line ends in the traditional style, designed the new station.
Direct flights
Economically, the city lives next to the trade, the dyeing industry and the carpet manufacturing and the processing of agricultural products, mainly from tourism. The Marrakech Menara Airport is located near the town.
Fresh water and a festival of film
The water supply for the city and the surrounding area is from the 36 km south-west to the dam of Lalla Takerkoust. Each year the festival will be held National des Arts Populaires and the Festival International du Film de Marrakech.